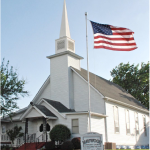 Current Events
Worship Schedule

We are bringing everyone together for one worship service.
9:00 a.m. ~ Sunday School & 10:00 a.m. ~ Worship Service
Youth Group Activities
Please see bulletin insert for upcoming Youth activities for the next two months. If you have any questions, please see Thomas or Brittney Gudde. Go to http://maywoodcommunitychurch.org/youth-kids/ for a complete schedule of activities. You can also find us on Facebook!
Yarn Donation
The Theiss Family will be making hats throughout the year to include in next year's Operation Christmas Child Shoeboxes from the Church. If you would like to donate yarn for this, please see Meghan Theiss. They will use all different colors.
Please consider joining this ministry of making cards, sending cards and/or visiting shut-ins.
All supplies are provided and no talent is necessary! If you are interested in sending cards and/or visiting shut-ins, please join us the last Thursday of every month to learn more. We need more helpers to continue and even expand this ministry! All are welcome!
2018 Card-making schedule:
6:30-8pm in the Maywood Kitchen
Last Thursday of every month
January 25 – February 22 – March 29 – April 26 – May 31
June 28 – July 26 – August 30 – September 27 – October 25
All are welcome!
Weekly Happenings
TBA ~ Youth Group
Tuesdays at 6:00 a.m. – 8:00 a.m. ~ Open Prayer
Tuesdays at 9:30 a.m. ~ Ladies Bible Study
Tuesday at 1:00 p.m. ~ Ladies Quilt Club
Monthly Happenings
1st Saturday of the month
8:00 a.m. ~ Men's Ministry Breakfast

***1st & 3rd Saturday of the month
6:00 p.m. ~ Renewal
1st Thursday of the month
6:30 p.m. ~ Board Meeting
3rd Thursday of the month
10:00 a.m. ~ Ladies Council
Last T

hursday of the month
6:30 p.m. – 8:00 p.m. ~ Helping Hands of Faith
Quarterly Happenings
3rd Thursday – October 2018