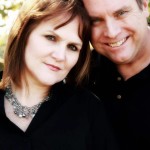 Pastor John and Kelly Bryden
On November 6, 2005 Pastor John Bryden returned to Maywood Community Church as the Senior Pastor after leading a church in Iowa for several years. We say returned to Maywood because he previously ministered here as the Associate Pastor. As Pastor John said,
"It is great to be back serving with the Maywood Family! I am looking forward to seeing all of the wonderful things God has in store for us!"
You can usually catch Pastor John Bryden doing one of many things: reading his Bible, telling someone about Jesus, spending time with his wife Kelly and their three children, participating in Taekwondo (He's a Black Belt), or drinking coffee from his favorite Dallas Cowboys mug. Yes, he is a big Dallas Cowboys fan, but we do not hold this against him. Seriously, Pastor Bryden has one goal in mind: to see people come to know Jesus Christ in a personal way, and to grow in their faith in Christ day by day.
He perso
nally shows people that following Jesus Christ is an adventure. He certainly shows us that Christianity is never boring.
Pastor John is an graduate of Calvary Bible College and Theological Seminary in Kansas City. He is also a member and certified counselor through the International Association of Biblical Counselors. Pastor John is also a member of the Board of Trustees at Calvary Bible College and Theological Seminary. Pastor John was a Chaplain to major business corporations through the ministry of Marketplace Ministries for nearly 10 years.